Social policies and practice guidelines
The company operates its business by adhering to the management in accordance with the principles of morality and ethics, as well as transparency, reliability, and fair treatment to stakeholders of the organization. Also, there is a good inspection system which considers the surrounding society.
Besides this, the company focuses on its practices in compliance with the measures relating to safety, security, health, and the environment as appropriate in the following: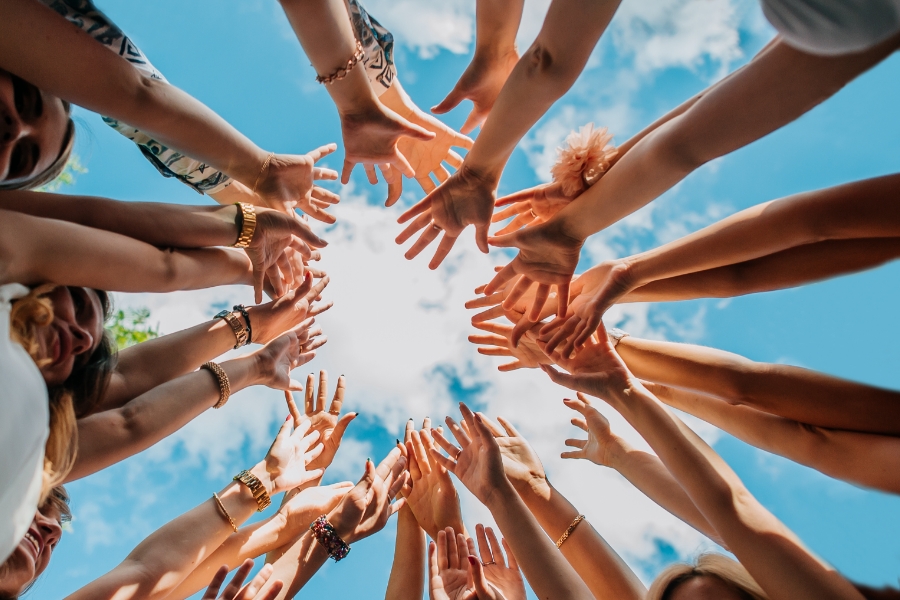 Business operations with fairness

The company pays much attention on the importance of fair business operations in all aspects with transparency, verifiability, free competition, no monopoly, and no violation of intellectual property. The company has also set a policy to have a contract to create fairness in business operations. There are quality control and satisfaction assessments of products and services for the maximum benefits to service receivers, including the scope of authority for approval by the executives in each department. Steps are taken to protect authorization that may lead to corruption, while establishing a reporting system for any risks so that all departments can report suspicions about unfair transactions to the company's top executives.
Anti-corruption

The company commits to performing its business with honesty, integrity, transparency, and legality against corruption by adhering to social responsibility and all stakeholders in accordance with good corporate governance principles. The company also realizes the principles of ethical conduct with a commitment to prevent and combat all forms of corruption, and therefore the company has set anti-corruption policies as follows:

The company has an assessment of risks related to corruption, including vigorously monitoring, controlling, preventing, and suppressing internal fraud and corruption.
The company sets a policy to prohibit bribery of any kind in all activities related to business operations. If the company needs to make a charitable donation, give business gifts, or provide financial support for any activities, it shall be done with transparency and no intention to convince government/private officials to take improper actions.
These policies shall be notified and published both within and outside the organization as guidelines for all executives and employees to act ethically. The company also imposes strict sanctions against the executives and employees who are involved in internal fraud, bribery, or corruption.
The company communicates and emphasizes these measures through in-house orientation and training sessions to ensure that all executives and employees are aware of the importance of anti-corruption policies, including its communication to employees about the company's commitment to prevent and fight against all forms of corruption.
The company sets a proper internal control system to prevent employees from being involved in fraud or corruption.
The company provides communication channels for employees and stakeholders to report suspicions and be assured that they will be protected. In the meantime, officers will be assigned or appointed to investigate every reported detail.
The company establishes clear anti-corruption measures which were approved by the resolution of the Audit Committee and Board of Directors meeting on 15 August 2017, with an annual review. The company also continuously implements related policies and measures, as well as communicates with people both inside and outside the organization, such as the disseminating of anti-corruption policies through the website: www.bangkokchainhospital.com, which includes good corporate governance, training and orientations for employees to enhance their knowledge and understanding, in line with notifying partners and contractors to ensure that the procurement and business operations of the company are honest and transparent in accordance with those policies.
Respect for human rights

The company is committed to treating all employees, patients, and service receivers with equality, fairness, and respect. There shall be equitable treatment, irrespective of gender, religion, cultural, racial, gender differences, and economic status.
Fair treatment of workforce

The company is acutely aware of the importance of human resources by establishing guidelines for personnel recruitment and selection according to laws and ethics. Every personnel is respected and treated equally with social protection, fair working conditions, reasonable payment of wages and compensation, and no discrimination. There are vacations, days off or leave, protection for female workers from pregnancy to childbirth, and various welfare arrangements in addition to basic welfare. The company also recognizes the importance of happiness at work by providing a nice environment to support the work of all employees, while allowing them to work safely and happily. Furthermore, internal and external training is organized to increase knowledge and develop the potential of employees according to topics that are appropriate to their work. In the meantime, the company also builds good relationships between employees through various activities to create unity and increase happiness at work.
Responsibility to consumers

Since the company operates a health service business, the direct consumers are patients. The company commits to providing quality services that meet safety standards. Whereas, it adopts various quality systems for the continuous patient care process, such as the HA (Hospital Accreditation) standard from the Institute for Hospital Development and Accreditation International Hospital Quality Standards, as JCI (Joint Commission International).

In addition, the company emphasizes providing accurate and complete information about the services in each step for patients to understand. They are provided an opportunity to participate in various considerations and decisions before receiving services in a bid to maximize patient satisfaction. At the same time, the company has fair marketing, with no propaganda, and sets reasonable prices.
Participation in community or social development

The company recognizes that building a strong and sustainable society is essential, and it is unable to operate alone. In addition to the projects initiated by the company, there are also other agencies and organizations with roles to cooperate with and support society, helping to increase the opportunity for activities towards the achievement of goals and widespread benefits, along with cultivating employees for their volunteering spirits and social responsibility. This is so that they can have a chance to gain experience in social activities because they are key forces in driving the progress of the company's social activities continually.
Activities to reduce accidents at work
The company has a survey on occupational safety practices. It also continuously reviews the statistics of serious injuries or illnesses occurring in the company, including communications to prevent and reduce accidents.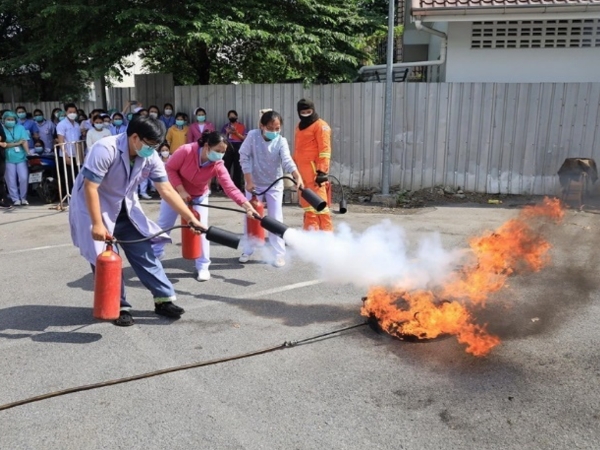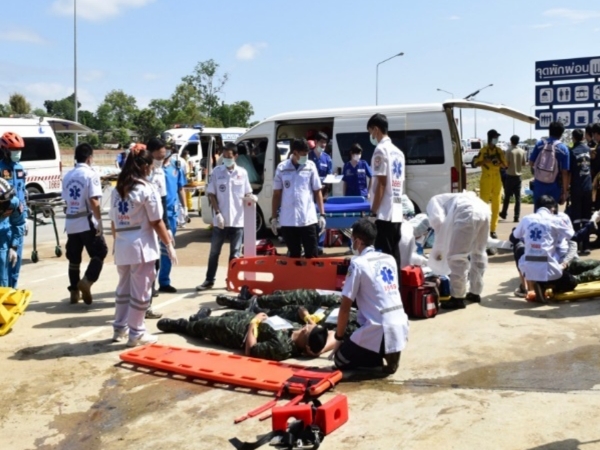 Statistics of accidents caused by operations
Number of employees having accidents and not taking leave
In 2021
0 case
Number of employees having accidents and taking leave
In 2021
4 cases
Number employees died at work
In 2021
0 case
Prevention of risks in the COVID-19 epidemic situation
The COVID-19 epidemic has affected current and future operations of both business and industrial sectors. The company has planned how to deal with this situation in a timely manner and with urgent measures to prevent and reduce the spread of this crisis and ensure safety for all stakeholders.
In addition, the company has also cooperated with the government sector in taking care of and treating patients infected with COVID-19 as follows:
1) Association of Persons with Disabilities of Thailand
to receive referrals for patients with disabilities who can help themselves to receive treatment in the hospital chain.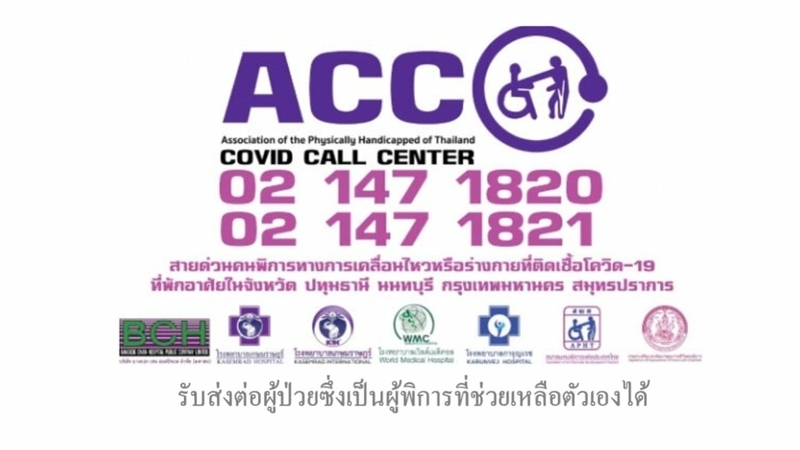 2) Ministry of Public Health
to establish a care center for people infected with COVID-19 and special patient wards, of which the company and its affiliated hospitals will manage the patients and support medical personnel team to check, follow up, and give advice to the patients via online systems.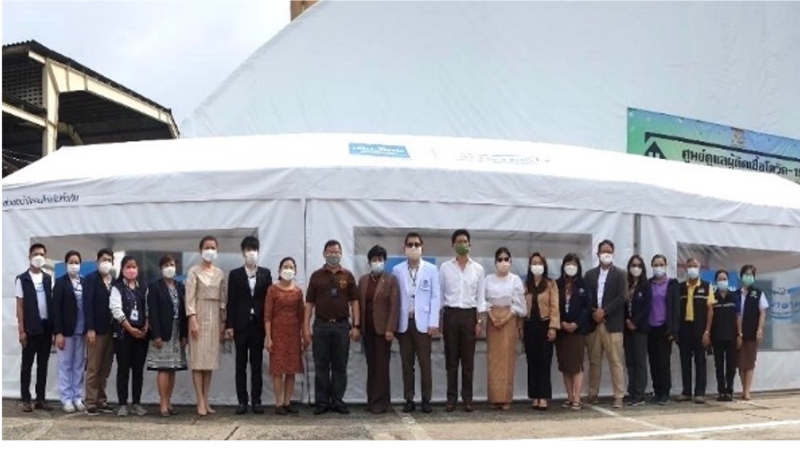 Employee care and development
Personnel are important human resources who play significant roles in the sustainable success of the organization, while driving the organization towards its vision, missions, and goals. It is essential to have valuable resources in terms of both knowledge and skills, as well as operating with efficiency and effectiveness.
As of 31 December 2021, the company and its subsidiaries have a total of
Category and Number of employees
Physician
1,515 employees
Nurses and Nursing Assistants
3,548 employees
Medical Operation and Support Personnel
1,522 employees
Back Office Personnel
2,012 employees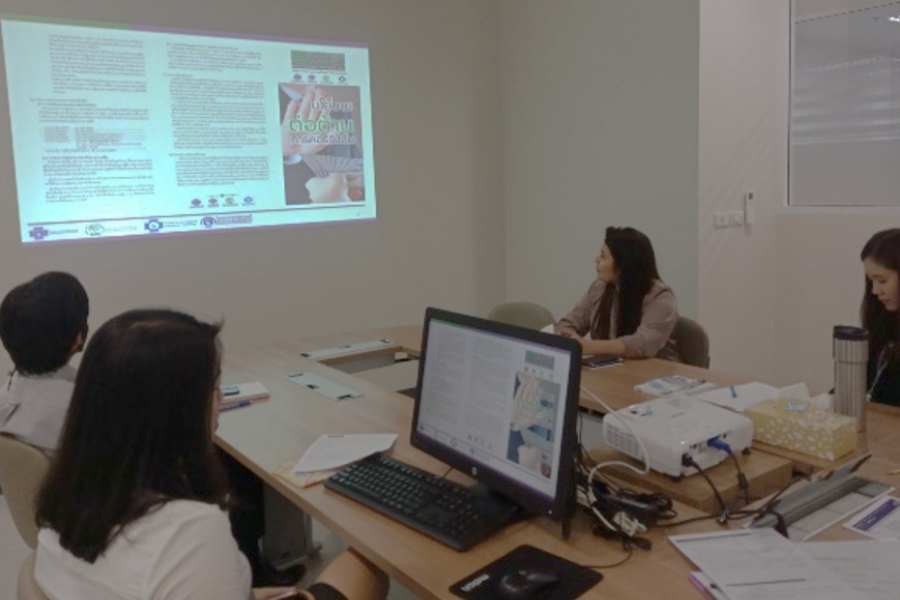 The company always promotes personnel development, as well as that of directors and executives, on an ongoing basis, with details in the Corporate Governance section under the heading of Information about Employees and the topic of Recruiting, Developing, and Evaluating the Performance of the Board of Directors.
Besides, the company also provided orientation training for new employees, as well as continuous training on anti-corruption measures to directors, executives, and employees so that everyone understands the company's measures, expectations, and penalties.
Community participation and development and the implementation of sustainable social projects
Education
The company believes that education is the most essential foundation to help young people have knowledge and competence, as well as their being important forces in the future development of the nation.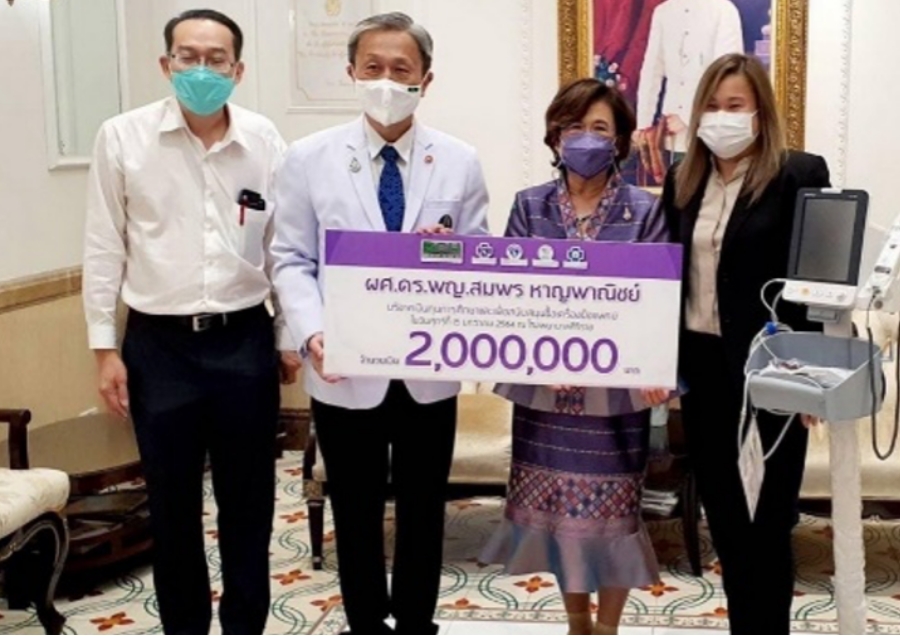 Social and Public Interest
In 2021, the company contributed to social support activities for the benefits of society as follows: Organizing a merit-making project for Thai monks to be far away from diseases, Providing a health check-up unit for people living in the vicinity of a medical facility, Blood donation activities and Walking and running activities for health.