BCH provides AED to Central Investigation Bureau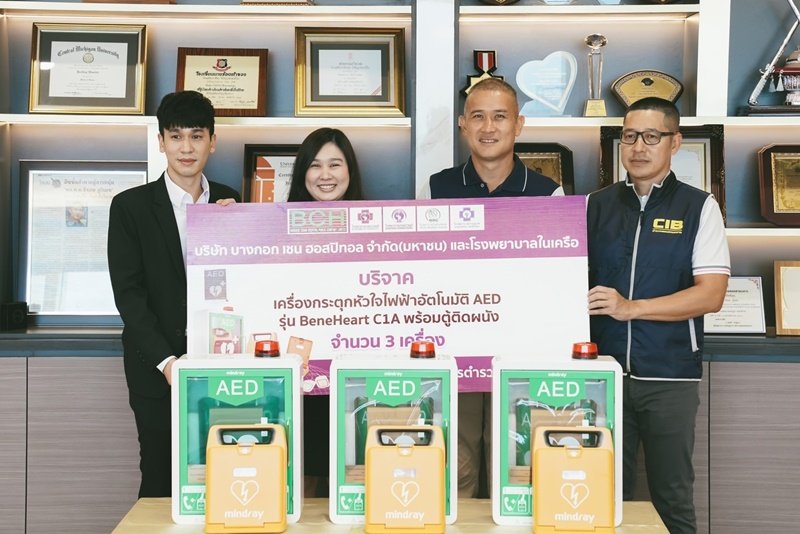 On 12 June 2023 - Ms. Pornluck Harnphanich, M.D., Director of Sustainability, Governance and Risk Management Committee and Chief Operating Officer together with Mr. Kantaporn Harnphanich, Executive Director and Chief Marketing Officer of Bangkok Chain Hospital Public Company Limited (BCH) provides 3 Automated External Defibrillators (AEDs) to Central Investigation Bureau (CIB).
AEDs were received by Pol. Lt. Gen. Jiraphop Phuridet, Commander of the Central Investigation Bureau, and Pol. Col. Boonlue Phadungthin, Deputy Commander of the Crime Suppression Division. The AEDs will be installed in the area of the Central Investigation Bureau.
BCH and affiliated hospitals aim for all people to have access to emergency care by providing 3 of AEDs, mainly because police officers are considered the fastest-moving units and be the first person to arrive at the scene, the AED can support officers to handle situations where patients have cardiac arrest but do not have the tools to treat them in a timely manner. This reduces the chance that the patient will pass away before the doctor arrives. It also increases the ability of police officers to take care of the people as well.